EXPERIMENT NO.7
TITLE: GENERATE AMPITUDE MODULATION (AM) WAVEFORM FOR GIVEN MODULATION INDEX, SIGNAL FREQUENCY AND CARRIER FREQUENCY.
Theory:
Amplitude Modulation is a technique used in electronic communication system, most commonly for transmitting info. Via a radio carrier wave.AM works by varying the strength of transmitting signal in relation to the info. Being sent..for e.g.-changes in signal strength can be used to reflect the sounds to be reproduced by a speaker or to specify the light intensity of television pixels.(contrast this with frequency modulation also commonly used for sound transmission in which frequency is varied and phase modulation often used in remote controls, in which the phase is varied.)
In the mid 1870's,a form of amplitude modulation was the first method to successfully produce quality audio over telephone lines..Beginning with Reginald Fessenden's audio demonstration in 1906.It was also the original method used for audio radio transmission and remains in use today by many forms of communication "AM" is often used to refer to the medium wave broadcast band.
Block Diagram:-
Forms of amplitude modulation:-
As originally developed for the electric telephone, amplitude modulation was used to add audio info, to the low powered direct current flowing from a telephone transmitter to a receiver. As a simplified explanation, at the transmitting end a telephone microphone is used to vary the strength of transmitting current, according to the frequency and loudness of the sound received. Then at the receiving end of the telephone line, the transmitted electric current affected on electromagnet which strengthened and weakened in response to the strength of the current. In turn, the electromagnet produced the vibrations in the receiver diaphragm, thus closely reproducing the frequency and loudness of the sound originally heard at the transmitter.
Suppressed carrier, a double sideband reduced carrier (DSB-RC) signal result's-SC and DSB-RC signals need their carrier to be generated (by a beat frequency oscillator)to be demodulated using conventional technique.
Even greater efficiency is achieved at the expense of increased transmitter and can receiver complexing by completely suppressing both the carrier and one of the sidebands. This is single sideband modulating, widely used in armature radio due to its efficient use of both printer and bandwidth.
A simple form of AM often used for digital communication is ON-OFF keeping a type of amplitude shift-keying by which binary data is represented at the presence or absence of carrier wave. This is commonly used at radio frequencies to transmit more data code referred to as continuous wave operation.
In 1982,the fundamental tele-communication union designed the various types of amplitude modulation as follows:-
| | | |
| --- | --- | --- |
| No. | Designation | Description |
| 1. | A3E | DSB-full carrier-basic-AM |
| 2. | R3E | Single sideband reduced carrier |
| 3. | H3E | Single sideband full carier |
| 4. | J3E | Single sideband suppressed carrier |
| 5. | B8E | Independent sideband emission |
| 6. | C3F | Vestigial sideband |
| 7. | Lin complex | Linked compressor & expander |
Modulation Index:-
As with other modulation indices, in AM this quantity also called modulation depth indicator by how much the modulated variable varies around its original level. For AM, it refers the variations in carrier amplitude and it is def. as ,
H=Peak value of m(t)/A=M/A
So, if h=0.5 the carrier amplitude varies by 50% above & below its unmodulated level and for h=1 it varies by 100%.To avoid distortion in the A3E mode, modulation depth more that 100% must be avoided.
MATLAB CODE:
AM GENERATION:-
Fc=input('enter the carrier frequency in hz,Fc=');
Fm=input('enter the modulating frequency in hz,Fm=');
m=input('enter the modulation index m=');
t=0:0.0001:1;
c=sin(2*pi*Fc*t);
M=sin(2*pi*Fm*t);
y=(1+m*M).*c;
subplot(3,1,1);
plot(t,M);
axis([0 1 -1.5 1.5]);
title('modulating signal');
xlabel('time');
ylabel('amplitude');
subplot(3,1,2);
plot(t,c);
axis([0 1 -1.5 1.5]);
title('carrier signal');
xlabel('time');
ylabel('amplitude');
subplot(3,1,3);
plot(t,y);
axis([0 1 -2 2]);
title('amplitude modulated signal');
xlabel('time');
ylabel('amplitude');
OUTPUT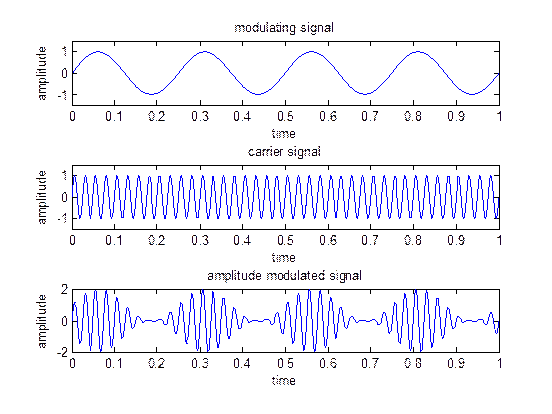 CONCLUSION:-